PRADHAN MANTRI JANADHAN YOJANA AN OVERVIEW
Bank has been implementing Financial Inclusion program with great zeal and enthusiasm. Under Pradhan Mantri Jan Dhan Yojana the experience gained and ground work already done for its FI program has been very helpful in streamlining its system and initiatives in the new frame work. The Bank has been allotted 1579 unbanked SSAs and 421 unbanked wards for BC driven banking. Bank has to cater to over 21.07 lacs households in its SSAs/wards spread over in 15 districts. The progress in implementation of the PMJDY so far is as under;
| | | |
| --- | --- | --- |
| S.No. | Particulars | Progress |
| 1. | A/Cs opened under PMJDY after 15th Aug 2014 | 9,08,478 |
| 2. | Bank's total Savings Bank Accounts | 92,23,956 |
| 3. | Adhar seeded Accounts | 2,01,330 |
| 4. | RuPay Debit Cards Issued under PMJDY | 8,38,090 |
| 5. | RuPay Kisan Cards issued so far | 59,000 |
Progress under other heads is under;
Uniforms have been allotted to all the Bank Mitrs.
Micro ATMs have been allotted to all the Bank Mitrs.
Application for AEPS is enabled in all these machines.
Doorstep banking services like opening of accounts, Adhar based/Cardless/Smartcard based transactions in their Savings Accounts, Funds transfer to any account of the Bank, Inward remittances, Payment of MNREGA/Widow/Old-age pension is being made in the villages through Micro ATMs.
Boards have been displayed at the "Grahak Sewa Kendra".
Audio CD of FAQ on PMJDY is displayed "twice in a day" in every branch/office.
Publicity Van and Aryavart Pracharak (Cycle Operator) used for publicity of PMJDY in rural areas.
Sensitization of Bank Mitrs and Bank Staff is done by organizing their meets in every region.
Financial Literacy Camps are being organized at village level.
Camps for Aadhar enrollments are being organized at village/branch level.
Publicity through Film Showing/Magic Shows/Nukkad Nataks etc being done in the villages.
Ten Finacial Literacy Centres are also fully involved in all the activities of PMJDY in general and Financial Literacy & awareness bringing activities in particular.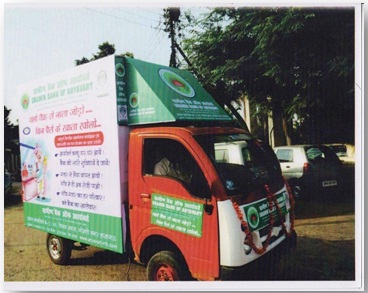 Publicity Van used for awareness of PMJDY in villages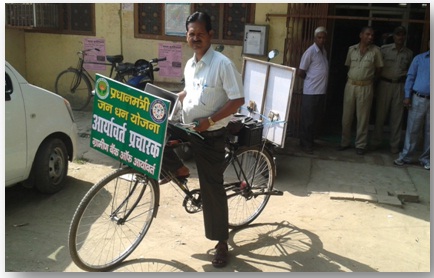 Aryavrt Pracharak: Door to door publicity of PMJDY on Cycle in the villages.