Pilot Project on 'SHG as a Business Correspondent'
'The Bank in our Village – Bank Hamare Gaon'
Background
The Business Correspondent (BC) model forms the corner stone of India's financial inclusion strategy to ensure delivery of banking services across the length and breadth of the country. An important milestone of having a bank agent or a CSP (Customer Service Point) in all villages with a population of more than 2,000 has been achieved. But despite the remarkable progress in terms of geographical outreach, significant challenges remain. CSP and client dormancy (especially in the rural areas) are high.
NABARD's SHG-bank linkage program (SBLP) has supported the formation of SHG networks with extensive geographical coverage and client outreach. Convergence of BC based financial inclusion initiatives with SHG networks may hold some answers to the current challenges in financial inclusion.
A pilot project was therefore envisaged to explore the potential of SHG members functioning as Business Correspondents to offer banking services at the doorstep of the village residents particularly women and poor households, with backing from the SHG supporting institutions.
<![if !vml]>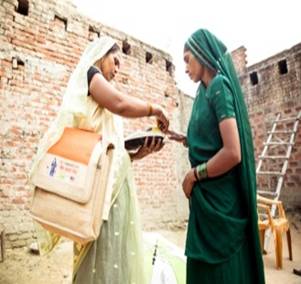 <![endif]>
GIZ NABARD joint collaboration; RFIP (Rural Financial Institutions program) supports the pilot program with the sole objective to understand the feasibility , coexistence and mutual fit of SHG networks within the BC ecosystem.
The Grameen Bank of Aryavart (GBA) in cooperation with the GIZ-NABARD Rural Financial Institutions Programme (RFIP) has identified a well-functioning SHG ecosystem that is being nurtured and promoted by Rajiv Gandhi Mahila Vikas Pariyojana (RGMVP) for this pilot project. Bank Sakhis – selected SHG members who have been acting as a link between the SHGs and the bank –have been trained and equipped to carry out the function of CSPs. Handholding/support as well as quality control and supervision capabilities have been built up at the level of the block level SHG federation[1], with support from the RGMVP.
Project Objective and Area
In view of the above background, GBA with the technical and advisory support from RFIP, decided to conduct a pilot on leveraging the SHG network as a Business Correspondent with the key objective: "Leveraging SHG eco-system for building a sustainable CSP network to offer formal banking/financial services in un/under-banked villages".
GBA and RGMVP chose villages at Sumerpur block of Unnao district in UP, where the access to formal banking services and its usage have been poor. The project began in September 2012. After the design of process and training modules, the enrollment activities began in March 2013.
The Pilot Model- Stakeholder Analysis:
<![if !vml]>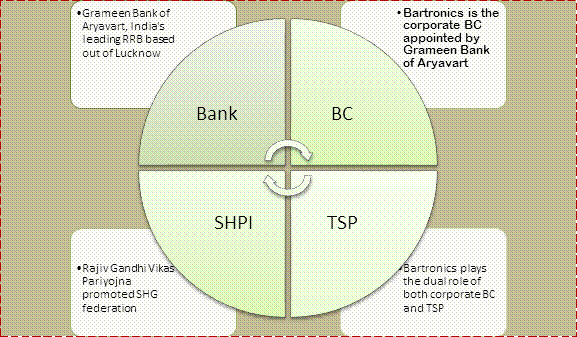 <![endif]>
Bank:Grameen Bank of Aryavart is the Financial Institution (Regional rural bank) in the project
§ Introduce BC and Bank Sakhi to the villagers as representatives of the bank for providing doorstep basic banking services
§ Support BC in the promotion of banking services to the villages
§ Support BC in organizing and conducting financial awareness and literacy campaign in the villages
§ Participate in the pre-enrolment meeting being organized by the BC in the villages
§ Provide training support to the Bank Sakhi as a BANK SAKHI-CSP and SHG institutions regarding the process and procedure for the delivery of banking services, sales and promotion techniques
BC and TSP: Bartronics is the corporate BC and Technology service provider. As the organization a key technology service provider, it is playing the dual role of both BC and TSP.
§ Provide enrolment kit (laptop, webcam, fingerprint machine, stamp pad, account opening form, etc.), training and ongoing technical support to the BANK SAKHI-CSP for the smooth implementation of enrolment activities
§ Provide training to the BANK SAKHI-CSP regarding handling of technology kits and troubleshooting basic technical problems faced by the BANK SAKHI-CSP
§ Process data gathered by BANK SAKHI-CSP for opening of BSBDA
§ Provide transaction kit (POS device, cash book, stamp pad, etc.), training and ongoing technical support to the BANK SAKHI-CSP for the smooth implementation of transaction activities
§ Provide training to the BANK SAKHI-CSP on the book keeping (how to maintain cash book), cash management (minimum cash balance, maximum transaction limit, etc.) and other transaction related matters such as beginning of day, end of day, etc.
RGMVP: Rajiv Gandhi Mahila Vikas Pariyojna is the SHPI (SHG promoting institution) whose SHG federation provides the network of its women led village level institution for providing banking services to client in the villages. RGMVP provides the services and resource of the following institution promoted by it.
Block Federation
§ Manage FI awareness building campaign, financial literacy workshop in its geography
§ Co-ordinate with BARTRONICS for installing enrolment kit, issues related to hardware and processing of enrolment data (in electronic form)
§ Co-ordinate with bank for approval of account opening application
§ Co-ordinate with bank/BARTRONICS regarding payment of commission
Village Organisation
§ Manage FI awareness building campaign, financial literacy workshop in its geography
§ Co-ordinate with bank for approval of account opening application
§ Ensure completion of enrolment activities and smart card distribution to be done by the BANK SAKHI-CSP as per the given timeline
§ Promotion of banking services with the help of SHG members in its village
§ Introduce Bank Sakhi to the village as a representative of VO being assigned the role of conducting enrolment of villagers for account opening and providing transaction facilities at the doorstep of the villagers
Bank Sakhi : They are members of RGMVP promoted SHG federation members. Each Sakhi is allocated one Gram Panchayat covering 4-5 villages.
§ Ensure prompt and efficient service to be provided to the customers
§ Ensure safe custody of cash and equipment which are at their disposal.
§ BANK SAKHI-CSP shall not charge any fee or commission or any charges from the customers
§ Maintain confidentiality with regard to customer information and do not share any customer information with any third party except BARTRONICS and Bank
Leveraging SHG Institution: FI Enabler
<![if !vml]>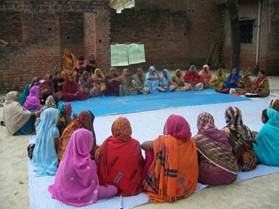 <![endif]>The GBA and Adarsh Mahila SHG Federation at Sumerpur have short-listed 27 Bank Sakhis and Navyug Mahila SHG Federation 23 Bank Sakhis  in a phased manner. These Bank Sakhis have been trained on ICT-based financial inclusion using classroom training modules and continuous hand-holding supports provided by GIZ project team and community volunteers appointed by the SHG federation.
The SHG federation constituted a Financial Inclusion Committee to coordinate with the branch staff of GBA, Bank Sakhis and RFIP for the planning and execution of financial awareness program, enrollment, deployment of ICT hardware, transaction etc. in the project villages.
Outreach and Usage of ICT-based Banking Services
<![if !vml]>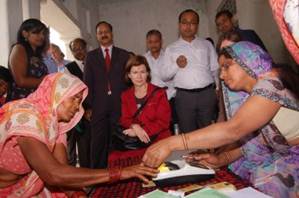 <![endif]>As of 15th March 2015, the SHG federations through the network of Bank Sakhis, have taken the ICT-based banking services at the door-step of over 23,000 households spread over 174 villages at 47 gram panchayats. A few members of SHGs have opened individual savings accounts under the project. Reason being such account (opened through Bank Sakhi) provides flexibility, convenience and security. Unlike savings in SHG, the members can withdraw money as needed. The members can operate account at the door-step and also beyond banking hours. The outreach of ICT-based banking services of the GBA leveraging SHG institutions, are shared below.
| | | | |
| --- | --- | --- | --- |
| Particulars | Unit (No.) | Particulars | Unit (No.) |
| Bank Sakhi | 50 | Village | 174 |
| Household | 23,000 | Bankable Population | 46,000 |
| Enrolled population | 22,033 | SHGs in the project area | 249 |
| SHGs members in project area | 2640 | Members of SHGs enrolled individually | 1903 |
| % of enrolled population | 48 % | % of enrolled Household | 48 % |
Bank Sakhi Performance- Key Indicators (as on 15th march 2015)

Summary Key Indicators

Value(in INR)/No

No. of Bank Sakhis appointed

50

No. of villages reached by Bank Sakhis

174

No. of bank accounts activated through Bank Sakhis

15666

No. of active accounts (=with at least 1 transaction in last 3 months)

8,294

Cumulative no. of transactions (deposits, withdrawals)

198763

Cumulative value of transactions (deposits, withdrawals)

Rs 27098304

Average no. of active accounts per active Bank Sakhi

320

Average no. of transactions per active Bank Sakhi per month

368

Average value of transactions per active Bank Sakhi per month

Rs 43,027

Monthly commission fees/revenue earned by active Bank Sakhi

1400

Cumulative no. of products and services delivered through Bank Sakhis

10
Over 48 % of bankable citizens have enrolled to use the formal savings services of GBA. 72 % of the SHG members have opened their individual savings accounts voluntarily. The SHG institution is committed to take the banking services to each and every under/un-banked household in the project villages. It is interesting to note the usage pattern amongst the account-holders.
Total 15,666 active accounts (Total 1,98,763 cumulative numbers of transactions valuing  Rs. 2.70 Crore  have been taken place till 15th March, 2015.)
---
Other Key Financial Products and Services Offered to the BSBD client of project
§ Recently, the online transaction facility has been rolled throughout all the network of CSPs including Bank Sakhi-CSPs. Through this facility, the clients can do fund transfer on a real time basis within any 651 branches of GBA spread over 15 districts of UP.
§ MGNAREGS and government social security beneficiaries such as pension (old age, widow) are also availing banking services through the network of Bank Sakhis after a Successful rollout of AEPS (ADHAAR enabled payment system).
§       The no-frills account holders are even receiving remittance from their relatives working in other cities into their savings accounts. The clients withdraw the remitted amount easily at their doorstep through Bank Sakhis using the POS device.
§       The villagers having opened the no-frills accounts through the Bank Sakhis are also eligible for hassle free Over Draft (OD) facilities. The client, with minimal documentation, can avail Rs.10,000 OD with the help of Bank Sakhis. The OD amount upon approval by the bank branch, is credited into the savings account of the client. The same can be withdrawn at the doorstep with the help of Bank Sakhis.
<![if !supportLists]>· <![endif]> In the recent Solar promotional drive by the bank, more than 60 SHLS loans have successfully disbursed in Sumerpur in the month of Oct 2014 to Feb 2015. 
BF activities –At glance
| | |
| --- | --- |
|                   Particulars  |                         Project Area |
| No. of RD accounts opened by 30 Bank Sakhis | 569 |
| No. of KCC loans | 13 |
| Amount of KCC (Rs. lakh) | 14.83 |
| NPA amount collection (Rs. lakh) | 51.04 |
| No. of bank notice given to the delinquent clients | 848 |
| No. of overdraft (OD) / loan facilities | 16 |
| No. of solar loans | 62 |
| No. of inward remittance | 60 |
| No. of online fund transfer | 3062 |
Sustainability
A Bank Sakhi is doing  average 500 no. of transactions in a Gram Panchayat. Since April 2013, 50 Bank Sakhis have facilitated over 1,98,763 no. of transactions. The network of SHG institutions have gone beyond their traditional role of inculcating savings habits amongst female members, but have also encouraged savings habits amongst the villagers in general.
A Bank Sakhi-CSP is doing on average 500 no. of transactions in a Gram Panchayat. She is earning above Rs.1,400 per month. She recently started the Business Facilitation work.
Parameters

Unit (Monthly)

Rate

Incentive

For providing basic savings transaction facility through POS device to NFA account holders

Fixed commission

If >500 transactions

Rs.500

Rs. 500

Transaction

1000 transactions

Rs. 1.25 per transaction

Rs.1250

For helping village members in using other financial services from the bank

Loan approvals of OD / KCC

10 applications

Rs.100 per application

Rs.1000

Recovery of NPA/Overdue

Rs.2,00,000 amount recovered

Rs 1.50 per 100

Rs. 3,000

Monitoring of loan accounts

50 loan accounts

Rs.20 per account

Rs. 1,000

Notice to OD/NPA borrowers

50 notices

Rs.10 per notice

Rs. 500

Sale of solar home lighting system

5 solar lighting system

Rs.100 per system

Rs. 500

Average monthly earning

Rs. 6,750
Phase 2 of Pilot Project:
New Initiatives: The project will continue to leverage technology and SHG based network to provide doorstep banking services.
Dual Authentication and digitization: The Pilot project has entered Phase 2 from June 2014. Project added 23 new Gram Panchayats with an objective to scale up the services and strengthen the CSP network of SHG federation members. In the second phase of the project; SHG software for integration with the POS operated by Bank Sakhis successfully been launched and tested in the operational area, by which SHGs' accounts can also be operated through POS machine by Bank Sakhis.
                   In nutshell with the help of this, digitization of the SHGs' records is quite possible which is very unique and one of its own kind in the country. Once the software will roll out operationally in both the blocks, Repayments in the CCL and Term loans accounts and deposits in SB accounts of SHGs will become much easier and can be done from the meeting place of the SHG on same day, which will save valuable time and cost which used to occur for going bank branches for SHG transactions.
POS (Point of sale) based enrolment services: The project will facilitate enrolment of clients' right at the place of sakhi through the POS machine. Currently, the clients have to participate in the enrolment camps which are held periodically in one of the selected GP, wherein the clients of nearby villages come and participate with KYC documents. With this, the enrolment rates are expected to improve along with saving of time of the client.
Ru Pay based debit and Ru Pay KCC: The Bank will soon introduce Ru Pay KCC and Ru Pay debit cards through the CSP platform. This will help the clients to withdraw cash at CSP touch pints without the hassles of going to Bank branch.
Risk Management and result based Monitoring systems: Results based monitoring systems as per global GIZ policies will help quality adherence. The BLA (block level association) level monitoring mechanism will be strengthened for effective CSP delivery.
MIS systems: Phase 2 of the project has graduated to elaborate kind of MIS to plan, allocate, track and monitor CSP activity at GP and village level. MIS will help in evaluation process eventually (planned for end of 2014.)
Key Learnings:
SHG based networks can be leveraged to formalize effective BC agent network to provide doorstep banking services

Community driven BC model leveraging technology need to be replicated further. With SHG networks, community ownership becomes the driver of BC agent distribution network

With SHG federation members recommending CSP agent, who happens to be member of their federation and is from the village, the trust factor and reliability of the clients on them is high

Banks need to provide diverse range of products and service through the CSP platform to ensure sustainability and viability of CSP revenue and evince interest

Social respect, economic empowerment, and pride of being associated with a Bank are the socio economic benefits of being a CSP agent for a Bank

Concerted capacity building approach coupled with customized user friendly training materials and constant hand holding of SHG members helps in building local repository of human resource who can drive the pilot project themselves

With the help of SHG-POS integration it is now possible to have a track record of all kinds of SHG transaction which leads to the transparency in the group. And no doubt a great initiative towards the digitization of the group transaction data.

Under the "SHG as BCA", it was realized that it is a far better platform than any other channel to promote the alternate sources of energy in rural areas where

 

power problem (electricity) is one of the most important issue. SHG network can be leveraged in order to promote and channelize the renewable energy products and services as alternatives of electricity.
Case Study 1
Financial Empowerment along with Social Empowerment
Sakhi's Profile
Uma Devi, 39 years old, mother of four kids, belongs to a high caste Brahmin family. Coming from a small family, she was not able to adjust to a large joint family after her marriage and she left her house because of increased work pressure. However, on being persuaded by her family and getting support from her parents in law, she returned back to her husband's family. She herself tells this story and explains how things have changed as she learnt how to handle bigger responsibilities. Her husband is a farmer and earns hardly enough to take care of the expenses of raising four kids (three of them are girls). One of her daughters is getting married in January, 2015.
Her journey as Sakhi